INTRODUCTION
1.1 GETTING STARTED
1.2 EVENT SYSTEM
2.1 TIPS
INTRODUCTION
This is a full 3D Modern Menu that you can use and modify for your game, completely ready to go! It comes complete with the UI Images for customization, Sounds, and Scripts featured in the screenshots!
If you want to learn how to make this project from scratch, I have a YouTube tutorial series  
that walks you through every step. This version has been converted to C# but the YouTube 
version was written in JavaScript since it was a while ago. The base scripts are all there 
and you can customize them as you wish. This project is free to use and I hope to see some 
cool variations of it in the future!
1.1 GETTING STARTED
To get started, drag and drop the 'Main_Menu' prefab into any scene, or load the sample scene called 'Menu_Scene.'
1.2 EVENT SYSTEM
The only other configuration you need to do before using the Menu is to make sure a game object with the 'Event System' component is attached, that way Unity can receive user input.
2.1 TIPS
Every variable has a tooltip describing it's function, so you don't have to guess what each variable is for!
Just hover over the variable to see it's description.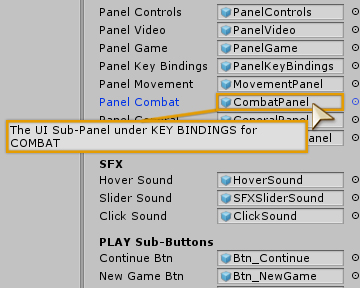 NOTE* There are PlayerPref values being saved to store data. That way, when you load up the project, the previous values for sliders are saved.
NOTE* The objects that have scripts on them are "Camera" "SFXSliderSound" and "Canv_Options." Other than that, no other objects have any scripts on them.
Note* If you have a "Mission (Mono Script)" error on the POST game object, install Post Processing from the Package Manager.
NOTE* If you are using a version before 1.0.7 and materials in your scene are missing or blank, delete the Particle FX shaders included in the Modern Menu package OR upgrade to 1.0.7. Newer versions of Unity aren't compatible with older shaders.
NOTE* The Key Bindings do not have any functions! They are just designed in the layout but are not programmed. You will have to program the input detection.
Have a suggestion to improve the documentation or package?